New Website
Finally!
Now, after about 10 years and several attempts we actually have a new website.
Due to the fact that such an undertaking demands a lot of work and we are fortunately always supplied with enough orders, we were not previously possible to update or renew our own website.
Several times we had begun, but any attempt took such a long way till at some point we were no longer convinced of the current trial and rejected everything.
The current website is now almost completely by the project descriptions, technically modern and visually very appealing. We have the site for any mobile devices implemented and also available for older browsers.
KK-Bits.com from 2002 to 2014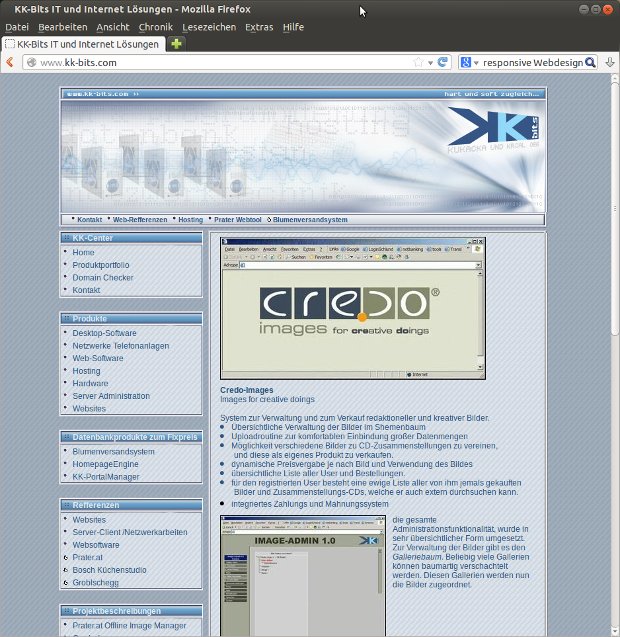 kk-bits.com from 2002 to 2013
As early as 2002, long before the javascript class HTTP (Ajax), we have implemented such an Ajax functionality in the website. The page Self-caused per Contentpage a small and compact reload on a hidden I-frame and got over this request only the raw content, which was shown via javascript in the HTML structure. Thus much of the network request from very low. (Due to time weak Internet connections was an important issue) where the page is noticed that the content pages had already been loaded and maintained this in memory. If the request was a content page a further clicked talk saved the I-Frame.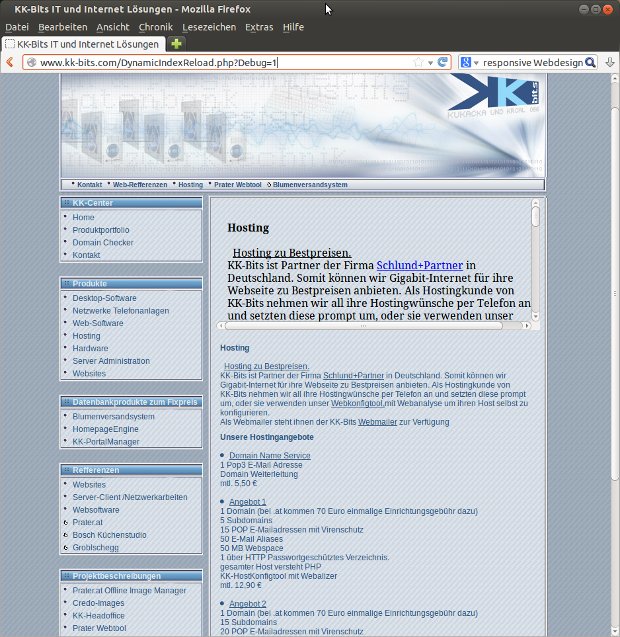 Debug output of the page is optimized for search engines
Around here not to have to take a disadvantage on the search engines for purchase, in addition to the construction of the Javascript engine for each content page, an additional link is offered, which represents the content in 'normal' form, readable by a search engine. In turn linked the search engine on this page, this is detected and the Internet Guest is on the appropriately formatted page.
This in turn has the advantage that the content for the search engine will indeed complete but is provided without any formatting and images, and thus was very readily available. The Internet Guest again had the optimized javascript logic to keep the HTTP requests short and simple.
Backend
Although not immediately necessary, the backend has been implemented in the form of direct without a reload.
All visible elements are created via javascript and reload in an I-frame.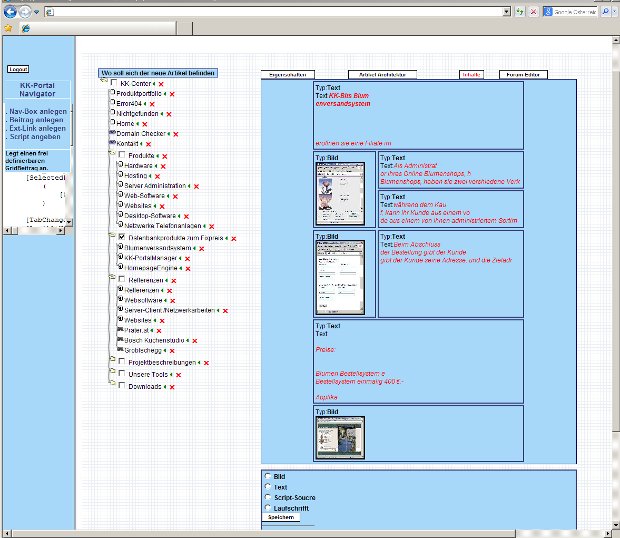 Backend KKBits 2002