B.Times | Accounting program
B.Times is a program for management and billing differently priced products and equipment in connection with time.
B.Times stands out thanks to extremely simple and intuitive operation.
Just by pressing a button all external devices including elapsed time and costs are displayed.
Despite a simple and easy usage it offers a variety of individually adjustable features.
A large number of operating procedures may be adjusted individually.
The program provides internal statistics and evaluation functions.
Data and settings can be exported and Imported simply and compactly.
The program supports POS receipt printer on the part of customers and operators. The printer can be used in OPOS mode, or via the standard Windows drivers
B.Times runs on all Windows operating systems from 98 and requires low system resources.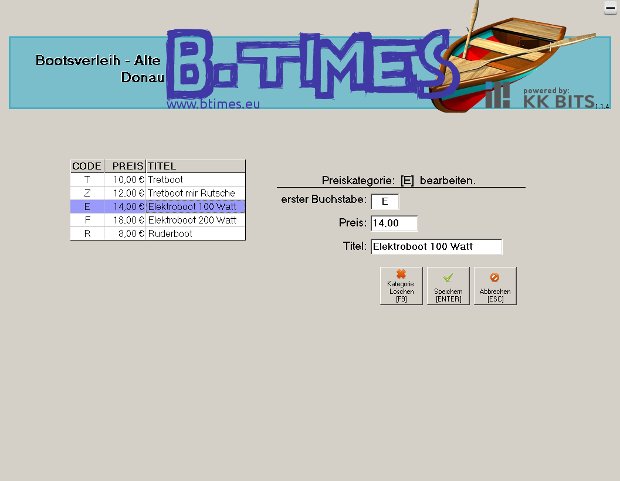 Specify price ranges
What is the basic function of B.Times?
The purpose of B.Times presents itself so that automates time-based awards and life is calculated.
The operator defines the output of the product at the time of customer acquisition.
At the time the customer return the operator terminates the process and the system berechnt the cost based on the product group, the corresponding price and the elapsed time.
On the part of the operators, it is not necessary any records of time, internal and external devices located, device numbers or to perform similar.
B.Times completely takes over the management of all these tasks.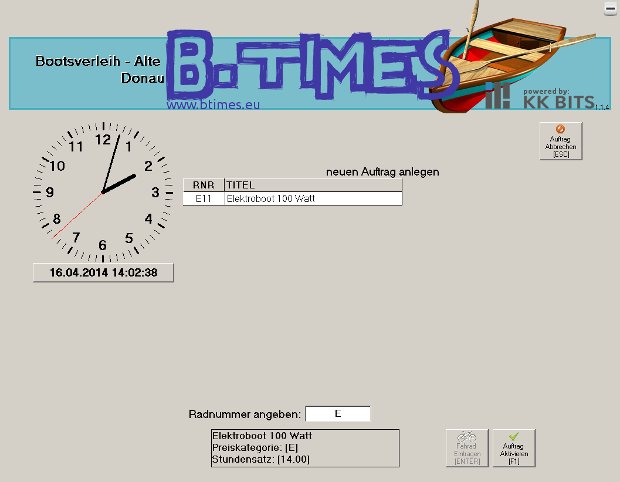 With just a few keystrokes you select the products and start the job.
Recent orders settle or terminate.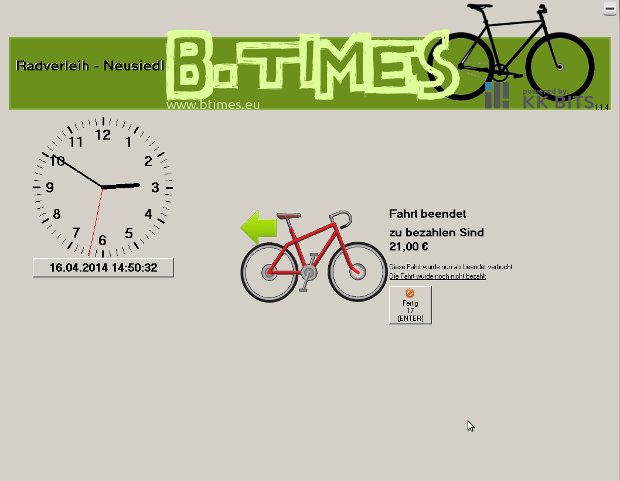 The journey was completed and not yet paid.
For each function in B.Times any key can be defined.
This can B.Times be operated from the keyboard exclusively via keys.
Besides these B.Times is full touchscreen capable.
However B.Times can also be controlled using a mouse.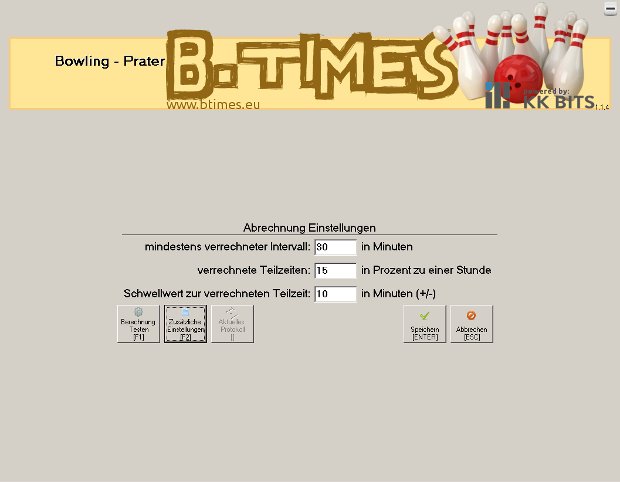 Base settings about billing.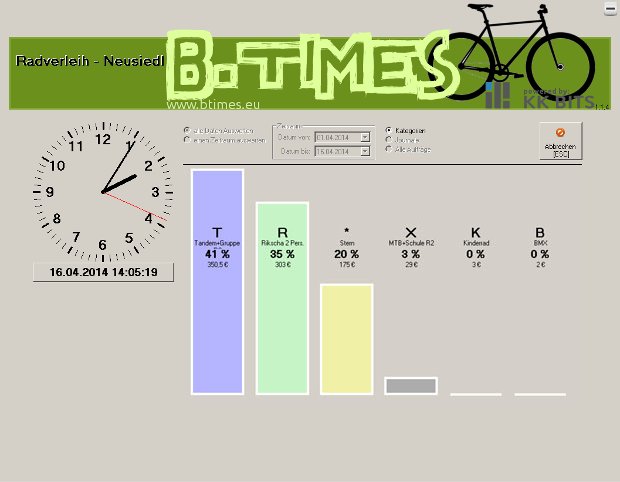 Archives and statistics functions can optionally be adapted and configured.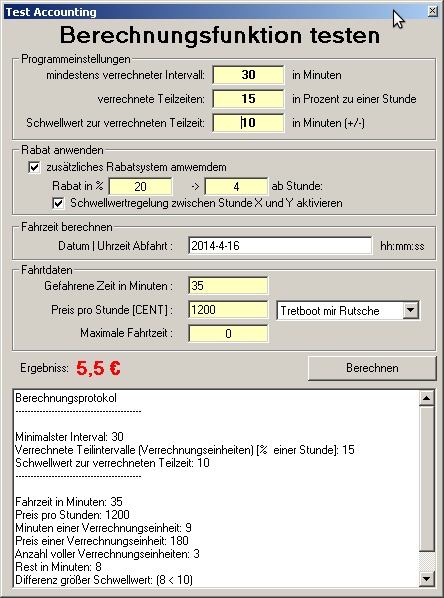 test calculations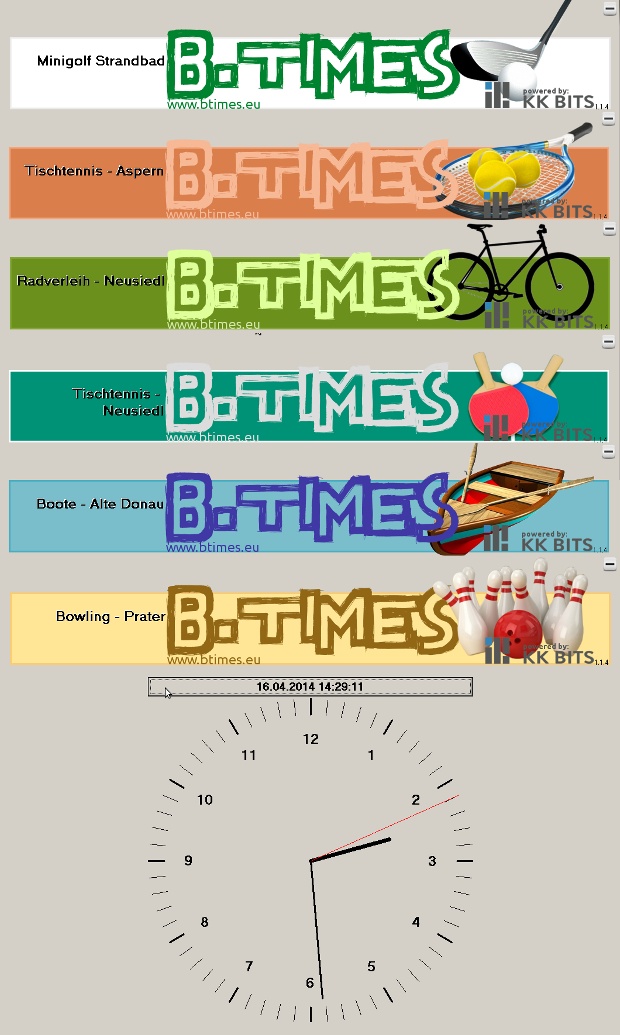 B.Times is the perfect billing software for all renting things based on time.
Accounting software for sports and leisure facilities
| | |
| --- | --- |
| Release | 2009 |
| Platform | Various versions of Windows |
B.Times is the perfect invoicing program for:
Bike rental
boat hire
Tennis, table tennis halls
Bowling, billiard halls
Mini Golf Courses
... any settled on the basis of time of business.
B.Times is already in use for several years and it runs extremely well.
similar projects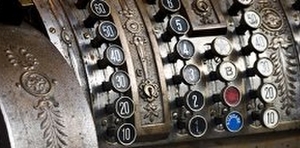 Full featured POS cash register system for multiple POS network.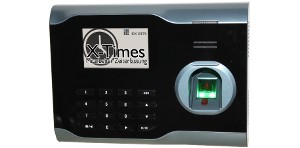 X-Times is a network-based time recording system. Basic function Employees are recognized (in different installations if necessary) by the PC software and synchronized over the net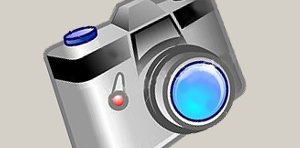 A tool for processing very large prater.at internet database.